Once upon a time there was a girl named Antje...
She grew up in the South of Germany and was always crazy about books and theatre. She wanted nothing more than to own a library or become a theatre director. And just like in a fairy tale, both wishes came true. Today her home is covered with shelves full of books and she worked in many, many theatres all over Europe. And she lived happily ever after! Hold it, we should start from scratch...
While studying dramatics at the Friedrich-Alexander-University in Erlangen/Nürnberg Antje seized the chance to take lessons with the very famous acting teacher Werner Müller. He was dedicated to storytelling and physical theatre. He taught her the old and almost forgotten technique of medieval street players, who made a living telling stories at the public markets. With her mentor Werner and two other students she founded her first theatre group.
They put on many plays including "Romeo and Juliet" or "The Tempest" for children all over the South of Germany.
Antje has a Master of Art and managed the ARENA stage in Nürnberg, co-founded the ARENA Festival and worked as a director throughout Germany and Italy. She directed plays and musicals (even musicals about the fairy tales of the Brothers Grimm), for adults and children, in studios, at stages, or open-air venues. Her Berlin theatre productions about Zarah Leander at the "Grüner Salon Volksbühne" and about Marilyn Monroe at the "Theatre in the Palais", Unter den Linden were a huge hit. She also developed the play "Warriors of God", which premiered at the Schiller Festival in Weimar. Antje was also one of four directors staging the first 24 hour-theatre in Berlin.
Antje received an award from the Central German Media Fund for her first screenplay. Later she taught screenwriting for a couple of years and worked at the film academy dffb in Berlin.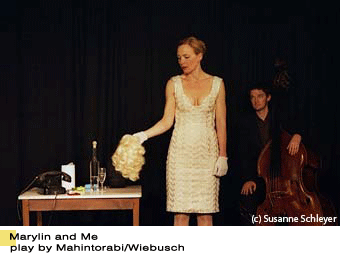 These days her life revolves around introducing children to the world of theatre and stories. Two years ago she moved with her husband and their eight year old daughter from Berlin to Vancouver. So here she is, ready to let the fairy tales of the Brothers Grimm come to life again in Canada! What an opportunity to pass on the almost forgotten art of story telling to the next generation.
And NOW she lives happily ever after!
Once upon a time there was a girl named Sandra...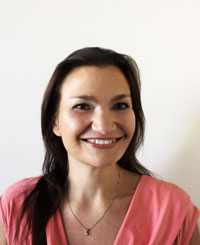 Many, many years ago (well, not too many), in a place far away from here, was a young woman who like most German children grew up with fairy tales by the Brothers Grimm. Never in her dreams did she think that one day she'd be working on bringing these stories to the children of Canada.
Always wondering what the world beyond her small town in Germany looks like, Sandra moved to New York City after high school and went to university in the Big Apple - it was a tempting apple.
While working on her undergraduate degree in sociology and Master's Degree in Social Research, she wore many different hats to support herself. For quite some time she was a nanny to the "rich and famous", but eventually she needed to get "real" jobs. For a number of years she was working for magazines dedicated to the financial/business world. Let's just call it spinning "corporate tales", definitely not as much fun as the stories told by the Brothers Grimm, but often just as scary - always entertaining.
After graduation, she built a career as a research manager for a NYC firm, tackling many research projects. And again, after each project, once the numbers were in a story was being told. This time not fairy tales, but reports based on empirical evidence.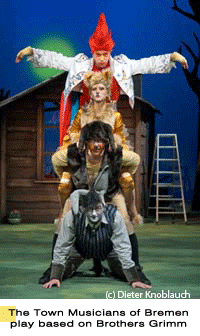 The good news is that NYC has a wonderful culture of the theatre and arts and aside from the usual suspects such as Broadway, offers the most amazing independent productions. Her favourite was "Shakespeare in the Parking Lot". Yes, it was a group of performers that dedicated themselves to perform every Friday during the summer in a parking lot at the Lower Eastside. No props, barely any costumes, but just raw talent.
It was that experience that got her so excited about this project. There is nothing wrong with a huge production, not at all, but often, it's the small, up close experiences that will leave the deepest impressions.
Living in Vancouver now, Sandra and her family enjoy all that this wonderful city has to offer and is happy to help bring a part of her heritage, German fairy tales to Canada.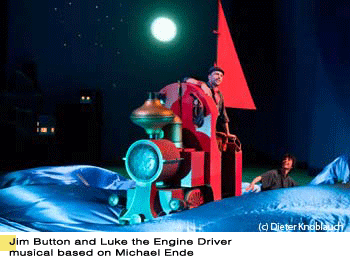 "Und wenn sie nicht gestorben sind, dann leben sie noch heute.
And if they haven't died yet, they're still alive today."
That's the exact translation of all fairy tale endings...
Who thought of that?
Once upon a time there was a girl named Christine...

...with dancing feet choreographing her life's story one step at a time. Born and raised in a rural village in southern Germany, her playground was the fields, meadows and forest surrounding her home.
All through her young years, she roamed free to the music of nature, but wanting to advance her dancing also meant trading the grass for the hardwood floors in the dance studio. When not expressing herself through movement, she had her nose in a book, exploring foreign worlds and studying their culture and language.
Christine studied German and English at the University of Freiburg, Germany, and at the UMass Boston. She obtained two degrees, the M.A. and the teacher license for secondary education.
For years she's been enjoying her career in teaching, empowering her students of all ages in both Canada and Germany.
As of today, she's wearing many hats as an educator, Kundalini Yoga instructor and JourneyDance guide always remembering the roots of her childhood and connecting the mind with the body.
| | |
| --- | --- |
| We are member of the Storytellers of Canada | |